How to Build a Better Boy Wiki
This wiki is all about the upcoming Disney Channel original movie How to Build a Better Boy. we are still growing since this wiki was founded and we would be glad if you helped out!
About How to Build a Better Boy
The film is written by Jason Mayland and directed by Paul Hoen. How to Build a Better Boy follows high school sophomores Mae Hartley and Gabby Harrison, two tech-savvy best friends who devise a plan to create the perfect boyfriend with just a few strokes of the keyboard and a wireless connection. What Gabby and Mae don't realize is that the computer they use is set up to generate a robotic super soldier, which they have inadvertently activated in the form of Albert, a macho yet sensitive super cute boy.
Featured Cast Member
Ashley Spencer Argota (born January 9, 1993) is an American actress, singer, and student. She is best known for role as Lulu in the Nickelodeon sitcom True Jackson, VP. She also co-starred as Kelly Peckinpaw in Bucket & Skinner's Epic Adventures on Nickelodeon. She portrays Nevaeh Barnes in How to Build a Better Boy. (read more...)


Did You Know...
...that starring on How to Build a Better Boy was a dream come true for Ashley Argota?
...that the cast of How to Build a Better Boy hung out, watching 17 Again in Ashley Argota's house?
...that Kelli Berglund portrays Mae Hartley in this movie?
...that this film is directed by Paul Hoen?
...that Marshall Williams stars in this film?
...that China Anne McClain stars in this film and is playing Gabby Harrison?
News
Featured User
ArietteFans is a featured user.. Be sure to leave her a message on her wall!
Featured Character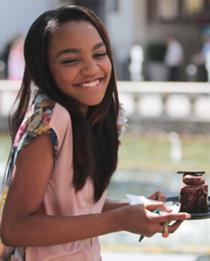 Gabby Harrison is a main character in How to Build a Better Boy. She is portrayed by China Anne McClain. (Read More)
Ad blocker interference detected!
Wikia is a free-to-use site that makes money from advertising. We have a modified experience for viewers using ad blockers

Wikia is not accessible if you've made further modifications. Remove the custom ad blocker rule(s) and the page will load as expected.